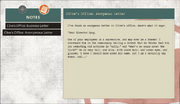 Clive's Office: Anonymous Letter is a note found in We Happy Few.
Transcript
Edit
"Dear Director Byng,
One of your employees is a subversive, and may even be a Downer! I overheard him in the commissary telling a friend that he thinks that his job redacting old articles is "silly", and "what's so scary about the truth?" He is very tall, and slim, with black hair, and brown eyes, and glasses. I know I should have asked his name, but I am a naturally shy woman, and..." 
It can be found scrapped near the desk of Clive's Office, in City Hall, at the beginning of the game.