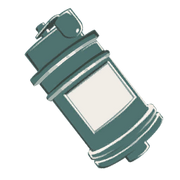 The Power Cell is used to fuel all the existing tecnology of Wellington Wells. It's also a craftable item.
Description
Edit
A power cell is a cell that works as a battery and contains a special liquid, Motilene, which can be found in some parts of the city inside special pipes and houses and sometimes even on the ground. It's largely used to activate machineries such as Spanklers, Joy Detectors, Redactors and more for both military and domestic use.
Used Items
Edit
To craft a power cell it's necessary to have the following items:
Ad blocker interference detected!
Wikia is a free-to-use site that makes money from advertising. We have a modified experience for viewers using ad blockers

Wikia is not accessible if you've made further modifications. Remove the custom ad blocker rule(s) and the page will load as expected.